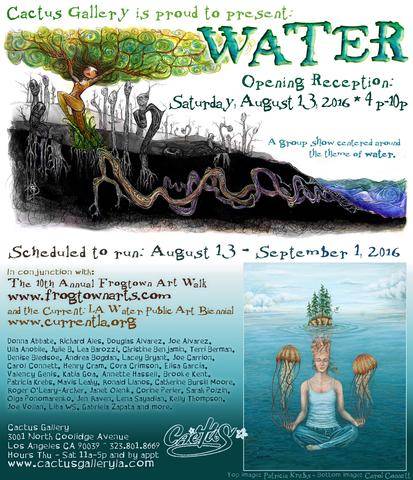 WATER – Cactus Gallery

WATER – Cactus Gallery
Scheduled to run August 13 – September 1, 2016
Opening reception: Saturday, August 13, 2016 * 4p-10p
In conjunction with the 10th Annual FROGTOWN Art Walk and the CURRENT:LA Public Art Biennial, Cactus Gallery will be hosting a Water themed exhibit.
The Frogtown Art Walk – now celebrating its tenth anniversary – is a yearly free tour of the studios of the artists and artisans of Elysian Valley (Frogtown).
The BOWTIE parcel which is a few blocks from Cactus Gallery along the L.A. River is one of the sites chosen for CURRENT: LA Water, Los Angeles' first citywide Public Art Biennial. The biennial runs July 16 – August 14, so the art walk was scheduled to overlap this event and we are complementing the idea via a water theme.
Participating artists: Donna Abbate, Ricardo Ales, Douglas Alvarez, Joe Alvarez, Patrizia Ambrosini, Susan Amorde, Ulla Anobile, Julie B, Lea Barozzi, Christine Benjamin, Terri Berman, Denise Bledsoe, Andrea Bogdan, Alea Bone, Lioba Bruckner, Lacey Bryant, Simona Candini, Joe Carrion, Carol Connett, Henry Cram, Cora Crimson, Elisa Garcia, Rosie Garcia, Valency Genis, Katia Goa, Annette Hassell, Anita Inverarity, Brooke Kent, Patricia Krebs, Mavis Leahy, Ronald Llanos, Jerry Montoya, Catherine Bursill Moore, Roger O'Leary-Archer, Janet Olenik, Tom Oliver, Corine Perier, Sarah Polzin, Olga Ponomarenko, Jen Raven, Bobby Rojas, Joshua Roman, Lena Sayadian, Bobby Selvaggio, Mable Song, Kelly Thompson, Joe Vollan, Yishu Wang, Liba WS, Gabriela Zapata and more.
www.cactusgalleryla.com